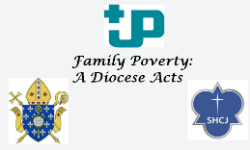 We are working with Church Action on Poverty to produce a series of 5 meetings to be undertaken in parish groups to explore issues of family poverty.
We now have drafts of the materials and they are being reviewed by the Project Steering Group. We are hoping to try out the programme on a pilot basis in the Craven district of N Yorkshire, Bradford and Leeds, starting later in the Autumn.
Many parishes already do a lot to help low income families in their area through SVP conferences, the UCM and other organisations. We commonly talk about the 'Catholic Family' and family values are very important in the life of the Church. One of the biggest threats the Commission sees to those values today is the strain put on families by having to work in insecure jobs where you do not know from one week to the next whether you will have enough money to properly feed and clothe your children. Yes – this is Yorkshire in 2018 that we are talking about. Ask an SVP member if you find it difficult to believe.
This set of meetings is about exploring the dignity of the human person and getting to grips with the public policy and systems that deny families that dignity and considering what we can do as Church to change the situation.
We welcome expressions of interest from other parishes – just email the Justice and Peace office and someone will get in touch.