By John Duffy, Commission member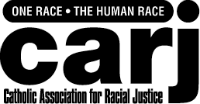 When the Justice and Peace Commission came to look at issues of racial justice, we realised that we need to do more than support Racial Justice Sunday. We had learned from the Catholic association for Racial Justice (CARJ – www.carj.org.uk) that some Black Catholics often encountered the same problems within the Church as in society, and we decided that we ought to start by listening to the experience of Black Catholics in the Leeds diocese.
We made contact with CARJ, who advised us that we should listen to the voices of minority groups and encourage them to become involved in Justice and Peace activity. This should help us to organise training and support, recognising that this is a journey for all of us, and we are interdependent – we all need to listen carefully and with respect to a wide range of experiences and perspectives.
Our aim is to ensure that in our Church everyone is safe, seen, heard and respected.
So, in partnership with Leeds Citizens (www.citizensuk.org/chapters/leeds/) – an alliance formed of faith, education and community organisations, working for the common good – we are inviting Black and Minority Ethnic Catholics to share their experiences and views in a 6 months project, meeting virtually, to present their findings to the J&P Commission  in the summer.
It you are interested in finding out more or taking part please get in touch by emailing: