By Katherine Hogg, SPARK Project Manager
Hello, I am Katherine and I am the new SPARK project manager. I'm originally from St Albans in Hertfordshire and came to Leeds to do an MA in Theology and Development at the University before getting a job with Christian Aid and working towards a PhD.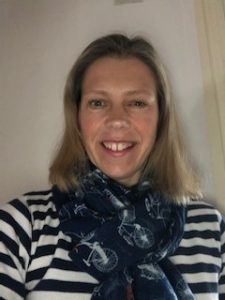 I've worked for Christian Aid for 13 years in the Leeds Office as a Regional and Project Coordinator. I was made redundant in 2020 and since then have been self-employed and initially took on a project for Green Christian. I wrote a small group discussion resource for churches called 'Plenty!' as part of the Joy in Enough programme.  Joy in Enough – Awakening to a new economics. I am still involved on the Enabling Group for the project.
I also work with Leeds Church Institute on Schools of Sanctuary Schools of Sanctuary | Building a culture of hospitality for people seeking sanctuary (cityofsanctuary.org) This is a nationwide initiative, part of the Sanctuary movement ensuring that refugees and asylum seekers are made welcome in school and that the whole school community learns about sanctuary issues. Given that the Justice and Peace commission is concerned about climate and refugees, I hope there will be some overlap between these organisations and I am sure I will be able to draw on the work I've done for both so far. Prior to working for Christian Aid, I taught English as a Foreign Language in London and one of my first jobs was working for the Christian youth organisation, Urban Saints where I eventually organised their overseas programme for young people called CRUSOE. This followed travelling to Kenya with Urban Saints as a young person and living in Nairobi for a year in a slum and working with children who used to live on the streets.
I now live in leafy Meanwood which is a world away from the slums of Nairobi but I'm still in touch with the people I met there and am well aware of the inequalities in the world and in UK and Leeds and it is a privilege to work with today's young Catholics as they seek to speak and act with SPARK.
I am an active person and enjoy starting my days outdoors in the morning light. I decided to start my own fitness business called Meanwood Valley Fitness which is on Facebook. I moved outside in the pandemic and as someone who enjoys outdoor exercise anyhow, it has proved to be perfect! I also enjoy cycling and leading rides in the Dales with Valley Striders Cycle Club for whom I also run a stretching class on Monday nights. I attend All Hallows Anglican church in Hyde Park where I am involved with leading worship.
I've started on the SPARK project by making contact with various key people who have been involved in the past or are central to the project now. Additionally, I've been reading various documents and looking over websites from the Catholic community. This is one area I will need people's help with as I build up my knowledge of Catholicism. I look forward to working with young people again as it's been a while since I worked with Urban Saints and my own faith has broadened and changed since then.
In time I'll be recruiting 'animators' for SPARK –  young people in the 18-30 age group who are keen to receive leadership training and show an interest in social justice issues. My first two challenges are likely to be recruiting animators and recruiting those who can share social justice issues through the creative arts. We've got off to a good start with setting October 8 as the date for an initial gathering. This will take place at Wheeler Hall. Who can you tell about this?
Skills-building for Social Justice Activism
08 October 2022 @ Wheeler Hall
10:00 – 4pm

Aged 18-30 and want to gain better skills  to campaign about the issues you care about?? (Skills that will also look good on your CV!) More information coming soon.
Interested? Then email: