On the 21st May, hundreds gathered at RAF Lakenheath in Suffolk to protest against US nuclear weapons being stationed on British soil.
A group from the West Yorkshire area got in a coach in Bradford and Sheffield and arrived among the earliest at RAF Lakenheath. Among them were Mollie and David Somerville. Other groups had travelled from places as far away as the North-East of England, East Anglia, particularly Norwich, and London.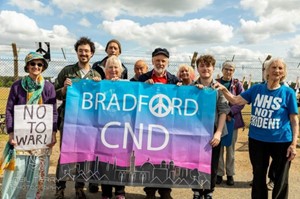 Mollie and David have been members of CND and Pax Christi for many years. In the 1980s Mollie took a small part in the Greenham Common activity. "We think that Nuclear Weapons not only threaten humanity's future but the money and time and expertise wasted on them would be so much better spent elsewhere. We have found that not paying attention to pandemics and climate change has already cost us dearly."
RAF Lakenheath has previously been a US nuclear weapons station as the base is under the control of the US Airforce. However, in the wake of relentless protesting, the 110 nuclear bombs were removed in 2008.
Now, over a decade later, there are reports that they are either to return or, more worryingly, possibly already have. The US Department of Defense has added the UK to a list of nuclear weapons storage sites that will be upgraded. For more information see Hans Kristensen's article here.
As Mollie and David said, "No government announcement will be made – all in the interests of secrecy and our national defence!"
And so, they travelled to Lakenheath to take a stand. Just after midday they joined in the Christian CND service led by the Anglican Pacifist Fellowship outside the base where they "sang lustily in the open air!"
The majority of people who travelled arrived in time for the speeches which started after 1pm. The group from Yorkshire met with Justice and Peace people from Birmingham and the story featured in the local BBC news among other outlets. "It was a beautiful day and everyone was in festive as well as serious mood of all ages and origins both political and racial."
The protest was particularly relevant as it was held just over a month ahead of the TPNW 1MSP in Vienna. When asked about what outcomes they hoped to see from the Conference, Mollie and David said, "We have no great hopes in the TPNW because it's a bit like asking Americans to give up private guns. Everyone else can see the sense of it but not them! British people are like that with nuclear weapons!"